See the crazy people partying. I sent a mail to all party initiators to send me their party pictures for inclusion here. So you can all check how other geeks around the world had their 1.0 release party :-))
I have Pictures. What shall I do now?
Zip (gzip, winzip, rar) your high res (only the high resolution ones, no thumbnails) party pictures to one file.
Lookup the party Number you were visiting at: http://www.schnitzer.at/mozparty/
Put the Zip file in an email and send an email to: gallery@relax.ath.cx Be sure you include the Party Number in your Subject or E-Mail body!
Be sure to include some short text about your party :)
Now it's my turn to put your party pictures online :-)
4 (!!!) new parties! [Update: 2002-06-21 00:43]
One in London, Ecuador, the USA and France (Paris). So we have 16 Parties! The San Francisco Party received some updates too. So be sure to check things out :-)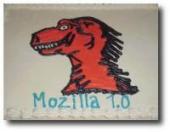 The Mozilla Cake! [Update 2002-06-13 02:01]
Michael Kimsal sent his mozilla cake photo in. More details can be found on: http://www.tapinternet.com/index.php/news/main/11/event=view
The main Gallery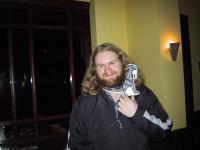 Australia::Melbourne - Aussie Mozzie Party
Party Entry: Available here.
It was a cold and windy Melbourne night, but that didn't stop the Mozilla faithfull. They arrived (almost 20 in all) to Prince Alfred's Hotel in Carlton, to pay tribute to the lizard (who was in attendance). The weather was getting quite cold, so many went inside for a game of pool (including the lizard).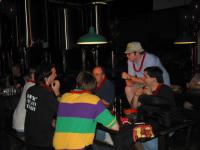 North America::Houston - Houston Mozilla Release Party
Party Entry: Available here.
An enjoyable bash at the Saint Arnold Brewery.  We drank rather a lot of truly excellent beer, gave out t-shirts, red leis, door-prizes, lots of pizza, mozilla-themed cake, and some really awful Mozilla temporary-tattoos.  It was great getting to meet some fellow Moz-enthusiasts (some from as far as Dallas and Louisiana) and the unlimited beer supply didn't hurt the festivities one bit, either!  We'll put our writeup of the party on Batmantis.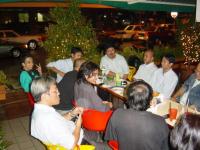 Asia::Malaysia::Kuala Lumpur - Mozilla Cicak Party
Party Entry: Available here.
It was a rainy evening in Kuala Lumpur, Malaysia and the with the rains came traffic jams all over the city. This however didnt stop about 20 people who were faithful to the lizard, or the cicak as we call it, from turning up first at Oliver's Sandwiches for dinner and thence on to the Roof, Bangsar for beers. Lots of cheering the cicak and open source in general. Hope to be here again for Release 2.0.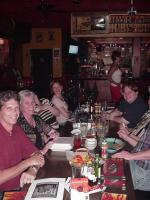 North America::Virginia::Richmond - Richmond Mozilla Party
Party Entry: Available here.
Nine people turned out for the Richmond, VA Mozilla release party on 6-12-02 at Bandito's Burrito Lounge.  We tempered the volcanic burritos with cool margaritas and talked about rolling out the lizard to be the standard browser (replacing Netscape 4.7x) for the 200 public and 150 staff desktops in the Virginia Commonwealth University Libraries!
"Libraries for the Lizard!"  Woo-hoo!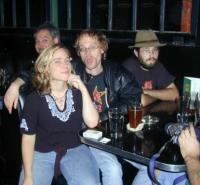 North America::Washington::Seattle - In the Empire's Shadow
Party Entry: Available here.
(I received this 3 times from different people ;-)
I'm one of 3 people that took photos from Mozilla Release Party #92 in Seattle, WA on 2002-06-12. I hope you don't mind a link to the zip instead of emailing it. Let me know if this doesn't work and I can still email it to you. Feel free to use or not use whatever you want from this set.
The party was at The Garage in Capitol Hill, a very cool billiards hall with 18 tables. It was a warm night. The atmosphere rocked, there was geek talk, non-geek talk, munching, drinking, and much rejoicing!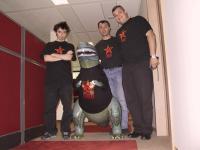 Europe::France::Paris - frozilla Fete 1.0.0
Party Entry: Available here.
The Paris Party took place friday night (2002/06/14) at the "Web Bar", 32 rue de Picardie, Paris 3eme. Members included coders, evangelists, users, even the designer of some Mozilla t-shirts. One member had a tie :-) . It ended around 1AM on saturday, after a few beers. Around 10 people attended.
Photos made by: Tristan Nitot and Daniel Glazman, also available here: http://www.paour.com/gallery/album64